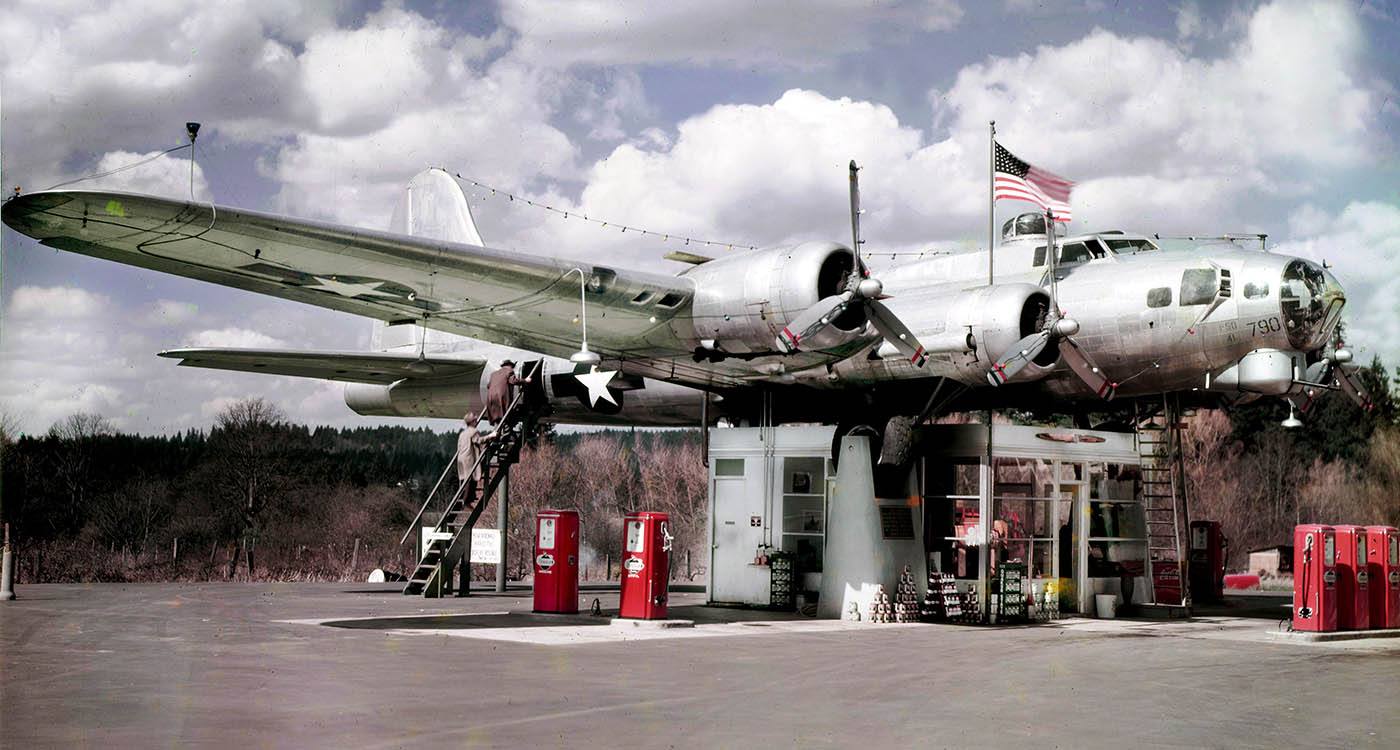 The Bomber History
An American Classic Restaurant
For more than six decades, the B-17 Lacey Lady was an icon of Milwaukie, Oregon, just a few miles south of Portland. Not only did the airplane "fly" above McLoughlin Boulevard, it became an instantly recognizable part of the community.
The Bomber was more than an advertising gimmick. "It's almost like a fairy tale story," maintains Milwaukie's Art Lacey, who owned and operated the 48-pump McLoughlin Boulevard gas station housed beneath the awesome WWII-vintage B-17G four-engine Bomber.
While Lacey's retired war bird was a familiar landmark in Milwaukie, Oregon, few realize the incredible chain of events that actually landed it there. As a young flier and gasoline station owner, he had a vision of a novel combination of both. His subsequent quest for a retired war plane took him to the U.S. Air Force's Altus Air Base in Oklahoma. The stranger from Oregon told them he wanted to buy the plane to be used as an advertising gimmick back home. Put it up over his gas station, he said. They questioned his sanity but sold it to him.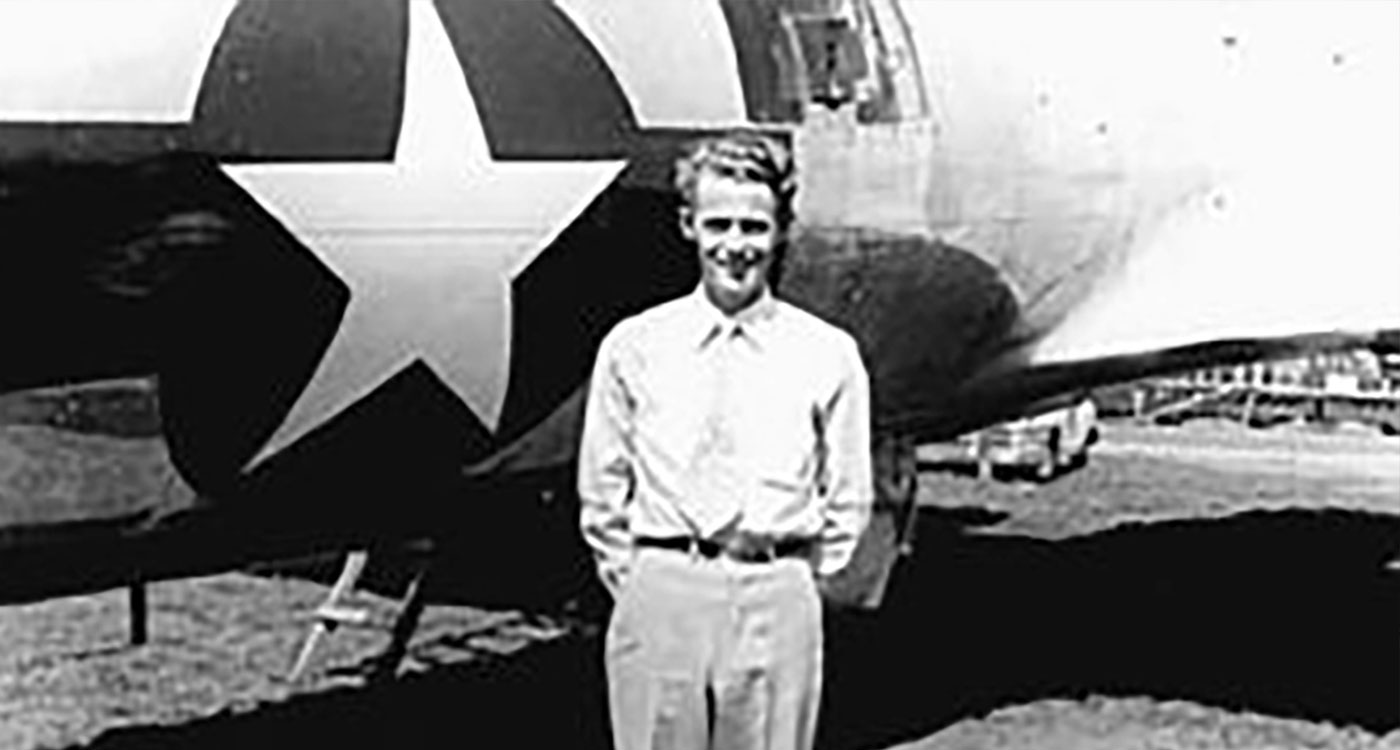 Art Lacey stands in front of his namesake aircraft, ca. 1948.
An Incredible Journey
Brought The Bomber to Milwaukie, Oregon
Our World War II B-17G Bomber was originally flown to Oregon by Art Lacey. From 1947 until its closing, the "Flying Fortress" you have seen in Milwaukie, OR sheltered one of the nation's largest filling stations.
The family Bomber is now in a non-profit B17 Allianace a volunteer colaberation dedicated to restoring this rare historical treasure to her original flying condition. www.B17AllianceGroup.com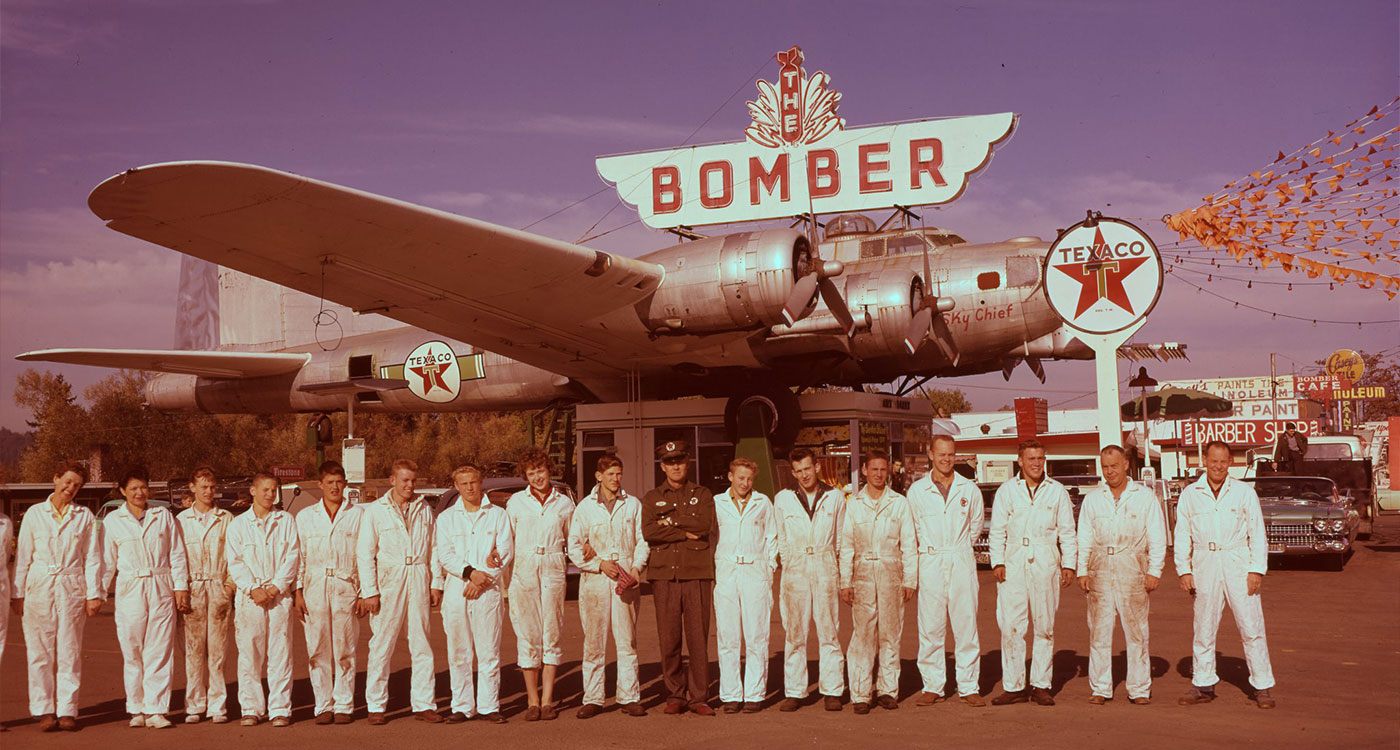 Owned and operated since 1947
---
The Bomber Crew: The incredible success of the Bomber Gas Station was due largely to the commitment of Art Lacey and his family to provide a superior service to their customers. Cars would be lined up several blocks down the road to "fill er' up".
This station was the largest volume single unit station in the United States during the 1960's. To lure customers they offered Coke Floats and ladies dressed in sailor type uniforms. They even hired bands to come in and entertain to a theme. When was the last time you saw that while filling up your car? One time they all dressed up in hula skirts and leis then did a stage dance while their customers filled er' up! The bottom line was hard work, a great attitude, full service and entertainment.
The committed staff had a famous photo under the Bomber. This photo not only brought them fame but other business's world wide have used it to get their point across.
The bomber is now copyrighted, merchandise for sale, using "The bomber" is permitted by permission only from the Bomber family.
The B-17 Bomber flew to Oregon in 1947. It served as a famous icon for nearly 70 years. By the 1990's these WARBIRDS were rare artifacts. The Bomber family made a decision to look at the aircraft differently. It was more than a sign for their business; it was a historical treasure that needed attention. A long journey began to return this aircraft to her original flying glory. B-17 Alliance Foundation was formed in 2006. The board of directors made a decision, in the best interest of the aircraft, to open an all new destination point. The B-17 Alliance Museum & Restoration Hangar opened to the public in 2015. More than ½ a million has already been invested into the restoration of the "Lacey Lady". The complete story and progress reports can be found on our active face book page B17Alliance Foundation or the website www.B17Alliance.com Please join our crew by signing up for the mailing list, purchasing items or just enjoying one of our many community outreach events. B-17 Alliance website.
---